<![if !vml]>

<![endif]>
MAE 476/576: Mechatronics
Spring 2003
---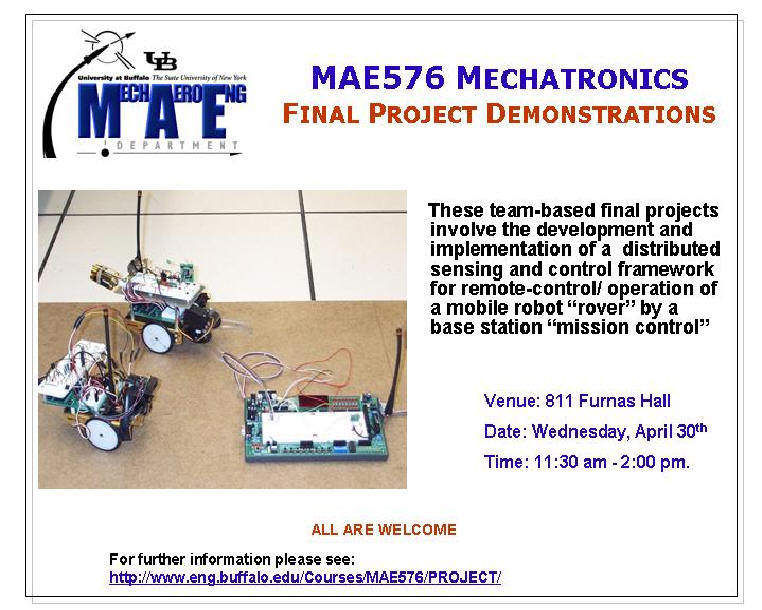 Project Goal:
In this final project, we wish to examine the development and implementation of a distributed sensing and control framework for a system comprised of: the mobile robot (with its onboard processor), the base station, which are coupled together by wired and wireless communication channels. Such a distribution of sensing and control offers many benefits including reducing the computation loads on individual processors and extending the capabilities of sensors/actuators but comes at the price of need for communication protocols, increased overhead of coordination and ultimately increased complexity. Thus, in this final project we wish to examine some of these issues using the relatively simple example of remote-control/operation of the mobile robot by a base station.
Full Project Description [HTML] [PDF]
Project Presentation Pictures [HTML]
Project Related Files from Various Groups:
Group
Members

Movies

(MPG Files)

Report

Presentation / Related Links

A
Temperature Sensing Robot

Rajendra Agrawal

[Movie 1] (1.58MB)

PDF (872KB)
PPS (94.5KB)

Rageesh John Britto

William John Mitchell

Gopikrishnan Sidhardhan

Govindarajan Kumara Srimathveeravalli

B
Mine Detecting Robot

Talib Saifuddin Bhabhrawala

PDF (441KB)
Related Link [HTML]

PPS (1.74MB)

Vamsikrishna Pateel

David Matthew Pericak

Jairam Ramswamy

Srinivas Sundaragopal

C
Robot Hunter

Rajani Boddu

[Movie 1] (4.30MB)

PDF (566KB)
PPS (828KB)

Craig Lawrence Cole

Sai Krishna Prasad Gavirneni

Preeti Sadanand Joshi

Vikranth Bejjanki Rao

D
Automated Guided Vehicle

John Patrick Eddy

[Movie 1] (3.27MB)

PDF (189KB)
PPS (68.5KB)

Amol Madhukar Kulkarni

Gaurav Kimothi

Gaurav Vijendra Tyagi

E
Automated Guided Vehicle

Chetan Jadhav

[Movie 1] (2.65MB)

[Movie 2] (5.05MB)

PDF (431KB)
PPS (1.51MB)

Madan Mohan Reddy Kandula

Vijai Kalathur

Rohit Ravindran Thali

F
Path Finder

Amit Kumar

[Movie 1] (885KB) (WMV file)

PDF (1.16MB)
PPS (2.07MB)

Carlos Niguel Lollett

Garth W Marthe

Sameer Suresh Patwardhan

Uma Shankar Sharma

G
A Compact Disk (CD) Sorter with a Central Database

Nicholas Gill

[Movie 1]

[Movie 2]

[Movie 3]

PDF (311KB)
PPS (313KB)

Matthew Szymanski

H

Jonathan Bechtel
The Course Website - MAE576: Mechatronics
Sending e-mail to Dr. Krovi and Chin-Pei, click here.